An extraordinarily complete range.
There is always a machine of the RENZACCI IRONING DIVISION at the disposal of the professional in this sector, with models and versions ready to satisfy the most specific requirements:
IRONING CALANDARS

–

The advanced MSA series, distinguishing itself by its high productivity and the great efficiency of the ironing trough. Models available with a usable ironing surface from 1400 up to 3200 mm with the possibility to choose between front outlet and front and back outlet. Wide choice from electrically, gas and steam heated models.

ROLLER IRONERS

– The famous KZ series with a special roller for highly uniform ironing, offering models with a usable ironing surface from 1000 up to 2000 mm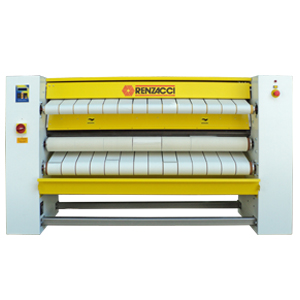 The new fixed plates the machine is provided with have a semi-cylindrical shape and are heated inside by electric heating elements, gas burners or by a steam coil according to the model chosen by the customer
The conveyor belts used to run the laundry perfectly on the surface of the machine are made of nomex, are of first-class quality and resistant to high temperatures
A practical and handy shelf fitted at the front of the machine is used to collect the laundry
These models, each one capable of working without pressure roller, are provided with a device to continually adjust the speed and automatically control the temperature of the heating plate
The safety of the operator and of the environment is moreover protected by a new life-saving device and by a modern circuit for the suction of the burnt gas and the vapours produced by the ironing
Electrically, gas and steam heated models
Calanders of the MSA range
The new ironing and drying machines of Renzacci's have been engineered for those who need to use their time in an efficient and profitable way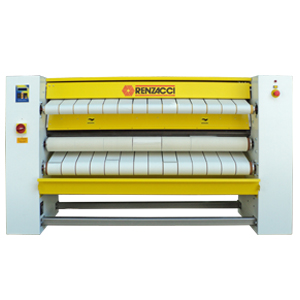 MSA 1400
Plate Width : 1400 mm
MSA 1600
Plate Width : 1600 mm
MSA 1850
Plate Width : 1850 mm
MSA 2000
Plate Width : 2000 mm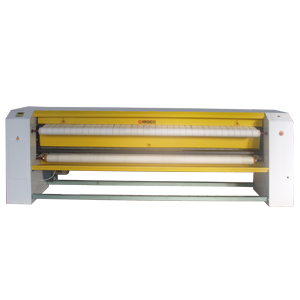 MSA 2500
Plate Width : 2500 mm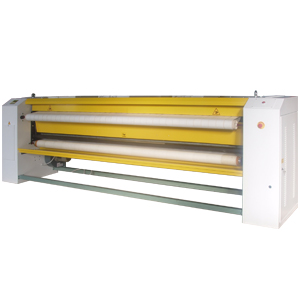 MSA 3200
Plate Width : 3200 mm
Automatic finger guard
24V low voltage controls
Emergency stop push button
Electronic heat regulation
Reduced sizes for use in small spaces
High ironing pressure
Front return of the laundry
Minimum maintenance
Availabe with vapours suction system (standard on KZ 2000)
The machine body is made of zinc-coated sheet steel. Quality components, mechanical and electrical trustworthiness , pedal-bar extended over the whole length of the roller, accurate roller cover
Good hourly output. Trough made of chrome steel 6 mm thick.
Ironing machines of the KZ range
KZ 1000
Roller Width : 1000 mm
Roller Diameter : 200 mm
KZ 1200
Roller Width : 1200 mm
Roller Diameter : 200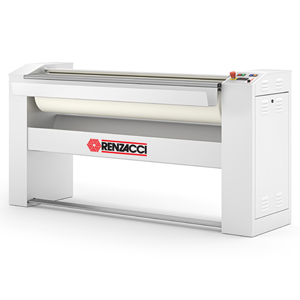 KZ 1400
Roller Width : 1400 mm
Roller Dieameter : 300
KZ 1630
Roller Width : 1600 mm
Roller Dieameter : 300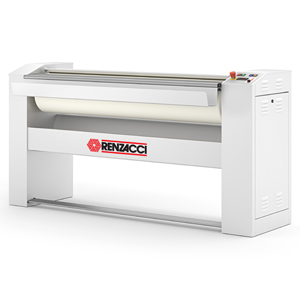 KZ 2000
Roller Width : 2000 mm
Roller Dieameter : 300